Brown and Gammons offer a wide range of Workshop Services and we are proud to have the distinction of being a XPart AutoService Centre
Free Winter Car Care Check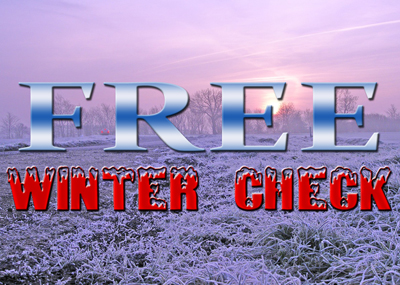 The weather is on the change, the leaves are falling! Now is a good time to have your car checked before the dark nights come in and the temperature drops.
Bring it in for our FREE 14 point check including: oil level, lights, battery health, wiper blades, antifreeze level check and screen wash level top-up.
Service Prices
We can offer full service facilities in our award winning Workshops, including MG Rover test book for problem diagnosing and rectification.
We cater for the entire MG range from the earliest Classic to the modern day MG6 and MG3. We also service Austin Healeys, Jaguars, Healeys etc. In fact we service any make or model of vehicle.
Example Service pricing:
MG3 MG GS & MG6 service
Please contact us for our latest competitive MG3, MG6 and MG GS service pricing.
Volkswagen Golf 2.0 Diesel - 2010 model £125.00 inc VAT - including fluids using Longlife oil.
Below are our current prices for MGF and MG TF, however should you require prices for any other car service please contact Neil Rouse-Heales on 01462 490049 who will be happy to quote. Or email your enquiry: service@ukmgparts.com
MG TF and MGF Servicing
| | | |
| --- | --- | --- |
| | MG TF / MGF1.6i & 1.8i | MG TF / MGF VVC & Trophy 160 |
| 12,000 miles | £195.00 | £195.00 |
| 24,000 miles | £235.00 | £235.00 |
| 36,000 miles | £245.00 | £245.00 |
| 48,000 miles | £270.00 | £270.00 |
| 60,000 miles + cambelt change | £580.00 | £600.00 |
| Brake Fluid Change | £45.40 | £45.40 |
| Coolant Change | £85.00 | £85.00 |
The prices quoted include VAT.
MoT Testing Facility
We offer a full MoT service on site at Brown and Gammons, in our purpose built MoT Bay. The bay, is complete with all the latest ATL equipment. Please call to book your MoT Test with Neil our Service Manager. Along side MoT testing we offer a Pre-1960 MoT Vehicle Check.
The Government's latest legislation on MoTs does not require pre 1960 cars to have an MoT and it is now the owners responsibility to make sure the car is roadworthy. Lots of these cars are only used during the warmer summer months and so sit for months at a time (especially with our British weather). They are also lovingly worked on by their owners who gain pleasure from being able to work on these cars without all the modern wizardry needed for our modern cars. We believe that many owners of these cars will welcome the opportunity to have their cars go through a test similar to the MoT and with this in mind we can now offer a 'Pre-160 MoT Vehicle Check' where we will test the car along the lines of the MoT test .
Air Conditioning Service
We can offer full air conditioning service for any vehicle with prices starting from
R134a from £79.98 inc VAT
R1234yf from £190.70 inc VAT
Tyre Fitting
ALL TIRED OUT - NOT ANYMORE THANKS TO BROWN & GAMMONS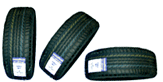 Did you know that we can offer a complete tyre fitting service, while you wait at our Baldock premises.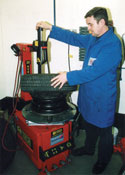 With the addition of our tyre fitting bay customers can take advantage of some of our exclusive on a wide range of tyres and after about 30 minutes they can drive away with the tyres that have been fitted and balanced in our award winning workshops.
Furthermore, if you fancy a new look for your car, why not opt for some new wheels to go with your tyres. There is a wide range available for all models of MG, including the MGF, and we have put together some exclusive packages of wheels and tyres which make this an extremely viable option.
With staff that can offer over 20 years experience in the tyre industry, why not contact us on 01462 490049 for a quote on fitting new tyres to your car today.
4 Wheel Alignment

SAVE MONEY WITH A 4- WHEEL ALIGNMENT CHECK
If a car's wheels are mis-aligned it causes excessive wear on the tyres, particularly on the edges. This means t
hat tyres have to be replaced more frequently resulting in increased running costs. Another symptom is that the
car will pull to the left or right and, under braking, could become seriously wayward. This means increased handling difficulties and lower safety driving conditions.
Our 4-wheel alignment equipment, the most advanced machine on the market, enables our engineers to check within one minute degree of accuracy how straight a car's wheels are. Each wheel is checked individually and if needed, adjusted so that all four wheels are perfectly positioned to enable the driver to derive maximum driving safety and pleasure.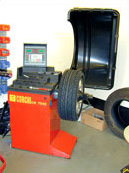 The process takes just 45 minutes and most models of MGs (cars) can be catered for, the only exception being the older, narrow wheel based cars like the T-Series MGs. Neil Rouse-Heales, Service Manager comments: "Customers who have already opted for this service are amazed at how even just a slight adjustment can make a big difference in how their car drives and handles. Some are absolutely staggered by just how much wear the edges their tyres have been subjected to. In fact, many customers are now including a 4-wheel alignment check in with their normal service as the slight increase in price could save them literally hundreds of pounds in reduced running costs." So, to save money and drive safely why not book an alignment check today. Contact Neil Rouse-Heales at Brown & Gammons Ltd on 01462 490049. Neil can also advise on all aspects of Brown & Gammons first class workshop services including serving, tuning, full & part restorations and competition preparation on all models of MG.
Rover Test Book
With the advent of the new range of MGs - MGF, TF, ZR, ZS, ZT - came computerised engine management systems. This creates a whole new system of fault diagnosing, which is where our state-of-the-art Rover Testbook wins.
The car's ECU is connected to the Testbook computer, which then reads the cars 'log of events'. It then analyses the information, traces back to where the fault original occurred and what caused it and then points the technician to where the problems lies. This eliminates the hours spent trying to diagnose the fault by the more traditional 'trial and error' method. This ultimately saves you, the customer, money which is reflected in your labour bill.
For further information or to book your car in please ring and ask to speak to Neil Rouse-Heales. 01462 490049
Restoration Work
Over the past 25 years, we have restored hundreds of MGs from pre-war Triple Ms, through T-Types, MGAs, MGBs, MGCs, Midgets and V8s. We've undertaken complete restorations or just done the bits of the job that you don't want to. This can include body welding, paintwork, panelwork, mechanical work or interior trim. We've put cars back on the road to original specifications or uprated, modified and even improved either the cars mechanics or aesthetics.
Throughout the work, we keep you abreast of developments (and there are normally quite a few) and we can take digital images of different stages of your restoration if required. During the work, you are more than welcome to visit our premises to view the car and its progress and to chat about the work involved (just lets us know beforehand so that we can make sure there is someone available to talk to you).
Displayed here are just some of the cars we have restored throughout our history to give you an idea of just how diverse our work is and the standard to which we comply to. If you want further information, to arrange to book your car in or just to chat about what you have in mind, please ring and ask to talk to Neil Rouse-Heales. 01462 490049
Competition Preparation
Brown & Gammons can boast a long and extensive connection with MG and classic motorsport both on the racetrack and in numerous historic rallies. Ron Gammons and his son, Malcolm, have both competed in many historic rallies, including Pirelli Classic Marathons, Classic Monte Carlo Challenges, Charringtons Historic rallies, Le Jogs and Leige-Rome-Leige. They have also contested countless race championships and invitation races, in both MGs and other classic marques like Austin Healey and Lotus. Ron has raced in F1 Grand Prix support races and competed at Goodwood both in the Festival of Speed and the Revival Meeting. Malcolm has ventured from MGBs to race an MGF both in road going Trophy format and the full on race-spec MGF Cup.
The company are also renowned for the quality of build and preparation of customers' vehicles for both racing and rallying, many of whom have enjoyed success of their own. So if you're interested in joining the winning team ring and ask to speak to Neil Rouse-Heales. 01462 490049
Car Storage
If required, we can accommodate your car in our dry, secure storage facilities. The premises are properly alarmed and insurance is no problem. We can collect and deliver if required and our discretion is guaranteed.
Our storage prices start at just £100 per month + VAT. If you would like further information, please ring and ask for Neil Rouse-Heales. 01462 490049